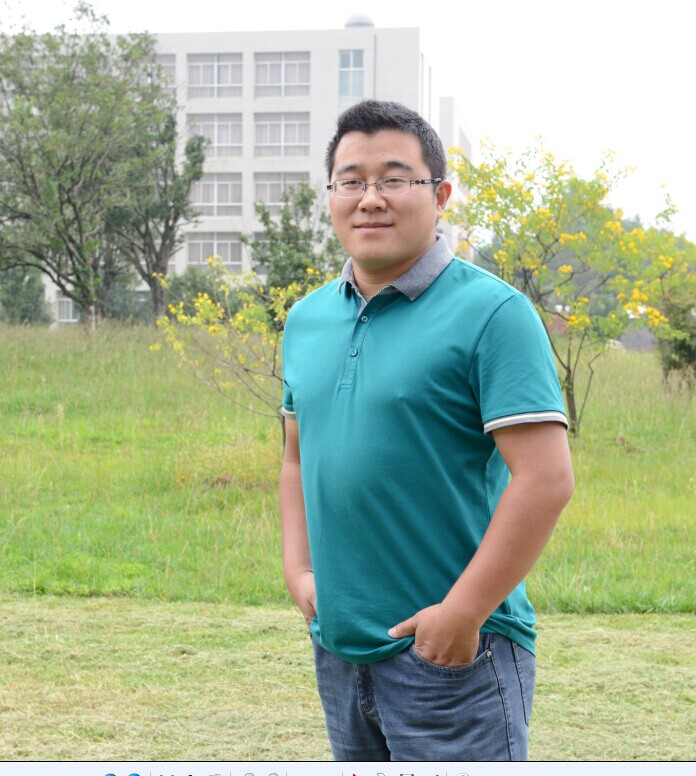 史俊友,博士,副教授,曲靖师范学院化学与环境科学学院老师,承担《分析化学》、《分析化学实验》、《仪器分析》等专业课的教学工作。在科研工作方面,主要从事天然产物的研究与开发工作,在液相色谱气相色谱的使用、药用活性成分的分离及药用植物的指纹图谱建立方面都有较深入的研究。
一、已发表论文
(1) WangX, Shi J, Liu Y. Oxidative Rearrangement Mechanism of Pentalenolactone FCatalyzed by Cytochrome P450 CYP161C2 (PntM)[J]. Inorganic Chemistry,2018,57(15):860-868.
(2) 史俊友, 景年华, 杨苏娥,等. 两种云南玛卡中8种矿物元素的测定. 食品研究与开发, 2016, 37(18):139-141.
(3) 史俊友,景年华,李彩霞,大叶白麻中总黄酮超临界CO2萃取工艺优化,食品与机械,2015,31(5):231-233。
(4) 史俊友,景年华,赵红艳,大叶白麻总多酚提取工艺研究,湖北农业科学,2015,54(16):4016-4018。
(5) 史俊友,景年华,汪帆,赵红艳,杨晓丽,3种雪莲总黄酮含量及其抗氧化
性比较,中成药,2013,(08):1813-1815。
(6) Junyou Shi,Nianhua Jing,Fanwang,Feixiang Cheng,CompositionalAnalysis and Antioxidant Activity Assessment of Polysaccharide Extracted from SnowLotus (Saussurea) Species,Asian Journal of Chemistry,2013,25(12):6755-6760。
(7) Junyou Shi,Guoliang Li,RuiZhang,Jie Zheng,Yourui Suo,Jinmao You Yong-jun Liu(*),Avalidated HPLC-DAD-MS method for identifying and determining the bioactivecomponents of two kinds of Luobuma,Journalof Liquid Chromatography & Related Technologies,2011,34(7):537-547。
(8) Junyou Shi,Guoliang Li,HonglunWang,Jie Zheng,Yourui Suo,Jinmao
You,Yongjun Liu(*),One-stepseparation of three flavonoids from Poacynum hendersonii by High-speedCounter-current Chromatography,Phytochemical Analysis,2011,22(5):450-454。
(9) Junyou Shi,Li guoliang , Suo yourui,Sunzhiwei,Xia lian,Zheng You jin mao,Liu yongjun(*),SupercriticalCO2 cell breaking extraction of Lyciumbarbarum seed oil and determination ofits chemical composition by HPLC/APCI/MS and antioxidant activity,LWT-Food Science and Technology,2011, 44(4):1172-1178.
(10)史俊友, 董丽花, 刘永军. 羟基加成反应对A-T碱基对结构和质子转移过程的影响[J]. 物理化学学报, 2010, 26(12):3329-3336.
(11)Shi J, LiP, Bu Y, et al. Isomerization of HNO to HON in the singlet state assisted byamino acid residues and/or water molecules[J]. International Journal of QuantumChemistry, 2010, 108(7):1246-1256.
(12) Nianhua Jing, JunyouShi, Guoliang Li, Zhiwei Sun, Jinmao You. Determination of fatty acids frommushrooms using high performance liquid chromatography with fluorescencedetection and online mass spectrometry [J]. Food Research International, 2012,48(1): 155-163.
(13) Dong, Lihua,Shi, Junyou,Liu, Yongjun(*),Theoretical studies on the interaction of biphenyl inhibitors withMycobacterium tuberculosis protein tyrosine phosphatase MptpB,Journal of Molecular Modeling,2012,18(8):3847-3856。
(14) Lihua Dong,Junyou Shi,Jinhu wang,Yongjun Liu(*),heoretical Studies on the Conformational Change of Adenosine KinaseInduced by Inhibitors,International Journal of Quantum Chemistry,2011,111(14):3980-3990。
二、近五年主持及参与项目
1.云南省教育厅科学研究基金项目,2014Y438,臭参有效成分研究,2014/07-2016/06,1万元,在研,主持。
2主持完成曲靖市"十三五"生物制造和生物医药产业发展研究调研项目。
3. 主持完成上海师范大学教育部资源化学国际合作联合实验室开放课题一项。